Awards
The range of awards currently available include:
Jordan Award
Silver medal & certificate
An annual award, to authors under 35, for the best paper published or submitted to Surface Coatings International.
Alternatively, it may be awarded to an internal paper not available for publication.
The award commemorates Dr L Jordan (President 1947-49)
Stern Award
Presented annually, irrespective of OCCA membership, to the author of the best paper or Special Publication published in the calendar year in Surface Coatings International.
Kekwick Award
Silver medal
Presented to Student members in recognition of achievements in appropriate full-time or part-time academic studies.
Previous awards have been made to students of the British Coatings Federation's Open Tech Programme, both in the UK and South Africa, and to graduates of the Canadian Division's Printing Ink Technology Course.
2015 Kekwick Award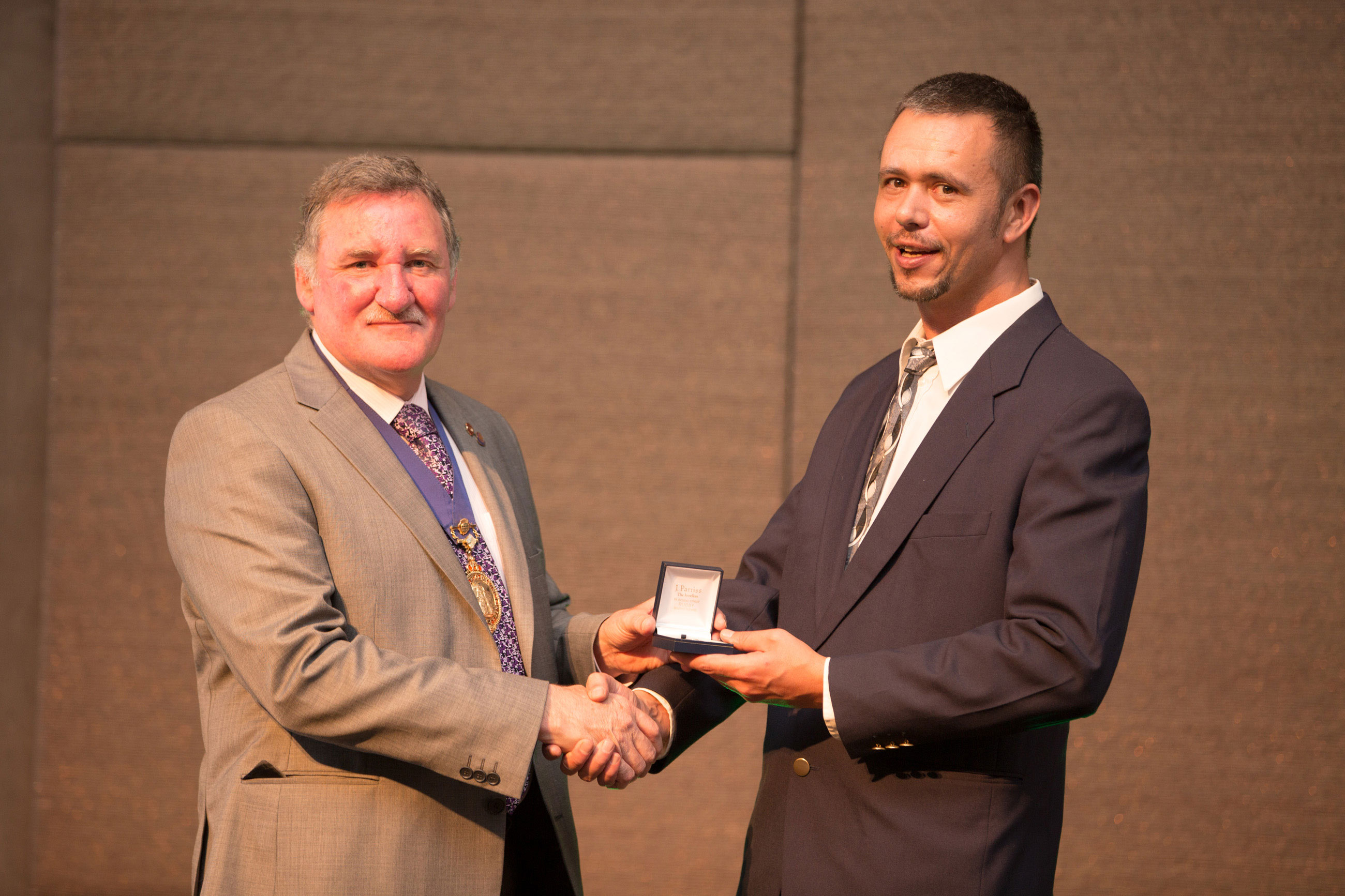 Johann Kunneke of Ferro South Africa has been presented with the 2015 Kekwick Award.
Johann has been a dedicated surface coatings technology student for many years and has found time to incorporate parttime distance learning into his working life within the South African coatings industry.
After enrolling for the South African Paint Manufacturers' Association's educational programme (offered on a modular basis each semester under the auspices of its training arm SAPITI – the South African Paint Industry Training Institute), Johann has gone all the way by completing a total of 10 units on offer. This has included two modules that specifically deal with the technology and application of powder coatings. It was a delight to invite Johann and his wife to participate in the Gala Dinner held at the Sandton Convention Centre on the last day of the Coatings For Africa 2015 event. Here he was called upon to accept firstly an award for Student of the Year from Terry Ashmore, Chairman of SAPMA; and then, from our own President, Jim Bury, who delivered the prized Kekwick Award – a silver medal which he brought across with him from the UK.
We are proud to accept Johann as one of our latest OCCA members in the Northern Section of the SA Division and we extend our very best wishes over what we are sure will be a successful career ahead.
Ellinger-Gordonyi Medal
Awarded for the best paper at selected Section meetings, conferences or symposia organised by OCCA and its sister organisations.
All lecturers, irrespective of OCCA membership, must submit the full version of their paper prior to presentation.
The award is judged on the basis of 80% for written content and 20% for presentation, and is awarded at the close of the meeting.
The award commemorates Dr Marianne Ellinger, a former OCCA member. Her significant bequest formed the basis of the Ellinger-Gordonyi Fund, which is used to stimulate education and training in Surface Coatings Technology.
Holbrow Medal
Presented to the author of the best paper given at PRA's Wood Coatings Conference.
President's Medal
Silver Medal
Awarded biennially by the outgoing President as recognition of an individual's contribution to the association.
Honorary Membership
A prestigious recognition of an individual's contribution to the association.
Commendation Award
Certificate
Presented for outstanding service at Section or national level.
All awards are recommended by the Registration & Awards Committee.
For further information please contact admin@occa.org.uk.