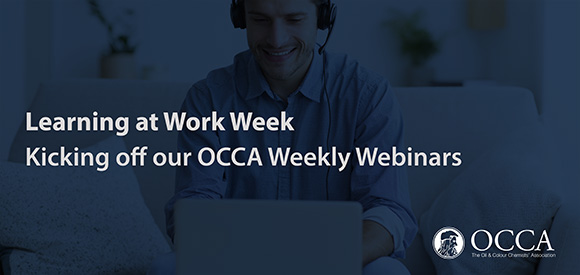 Dear Industry Colleague
Today marks the start of the UK's official "Learning at Work" Week, which is scheduled to take place 18th -24th May.
Learning at Work Week is a unique annual event to build learning cultures at work. It aims to put a spotlight on the importance and benefits of continual learning and development. The Campaign for Learning is coordinated nationally - designed to help organisations run creative, innovative and inclusive activities as part of their Learning at Work Week campaigns.
Due to the Covid-19 pandemic, companies are being encouraged to run 'Live - Online' Learning.
In a bid to mark this event, we are launching a new series of "OCCA Weekly Webinars", designed to encourage individuals currently working or studying in a 'Coatings-related' environment to participate from the comfort of their own homes or workstations.
We want to use this as a catalyst for change, providing a new way of engaging with members and industry associates. Our industry partners can share their business and product developments whilst encouraging participation from a broader audience with the Q&A session at the end of each 'live' webinar.
What does it entail?
Once a week, we will be hosting a 30-40 min live web-based platform lecture, with a number of speakers from across the Coatings Industry, followed by a 15 min Q&A session. We plan to run these webinars initially for 10 weeks through May, June & July.
How can you participate?
Register online for attendance at any or all of the scheduled sessions. We'll contact you with information about the programme of confirmed speakers and topics. You can opt-out at any time.
The series will be offered free of charge for ALL members, Corporate Sponsors and students from our recognised Educational Partners.
Non-members will be offered the unique chance to participate in three of the sessions, in the hope that we might then convince these non-members to sign up for membership of the Association....
All sessions will be recorded and will subsequently be available for download via our Members' Area of the website. Non-members who attend the initial sessions will be sent a link to download the recorded sessions they have attended.
To kick start the programme, our first two online lectures are as follows:
1) Thursday 21st May at 2.30pm
Graham Armstrong, OCCA President
"Inspiring Colourful Futures……Why do we use paint?"
Register to attend this webinar
2) Wednesday 27th May at 2.30pm
Markus Vogel, Evonik
Head of Applied Research & Technology – Architectural & Floor Coatings - EMEA
"A new silica particle technology to improve the durability of architectural coatings"
Register to attend this webinar