National AGM & Roses T20 Cricket Match
Calling all you cricket enthusiasts…
This year's National AGM will be held on the afternoon of Friday 14th July at Emirates Old Trafford Cricket Ground.
The afternoon will commence at 12.30 with a buffet lunch, followed by the AGM proper at 1.30pm.
The official AGM call notice and details of current vacancies for elective members of Council were circulated last month. The Agenda and Annual Report of Council for 2016 is available to Members on request. Should you require further details please contact admin@occa.org.uk. Alternatively these are available as downloads by logging in to your account at www.occa.org.uk
Cost including lunch is free for OCCA members. Please click here to indicate AGM attendance and advise of any special lunch requirements. Use the Book Now link below to order Roses T20 Tickets.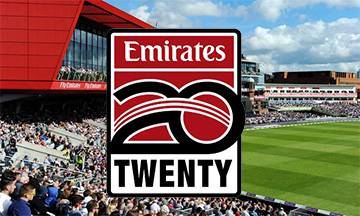 On the evening of 14th July we have secured 70 tickets for the first instalment of the highly anticipated T20 Roses clash between Lancashire Lightning and Yorkshire Vikings. This is a popular fixture in the T20  calendar.  With our very own outgoing Lancashire President welcoming our incoming Yorkshire President, the fixture couldn't be more appropriate. Come along and join in the fun.
Gates open at 4.30pm
Cricket from 5.30pm - 10.00 pm
Cost is £25.00 per person.
Ticket price does not include hospitality. There are, however, a number of food stations and bars scattered around Old Trafford with plenty of choice for everyone. Tickets will be sold on a first come, first served basis. Book now to avoid disappointment.
Come and join us for what promises to be a very enjoyable occasion.
For more information contact: admin@occa.org.uk
Or telephone Ann-Marie on: 07739 689710