Venue: Parkinson Building, University of Leeds, LS2 9JT
Date: Wednesday 12th September 2018 – Thursday 13th September 2018
Time: 09:00 – 17:00
Cost: includes the 2 day conference and attendance at the Gala Dinner
| | |
| --- | --- |
| Student Ticket | £100 |
| OCCA Member Ticket | £250 |
| Non-Member Ticket | £350 |
| Accommodation (Student) | £42 per night inc B&B |
| Accommodation (Non-Student) | £50 per night inc B&B |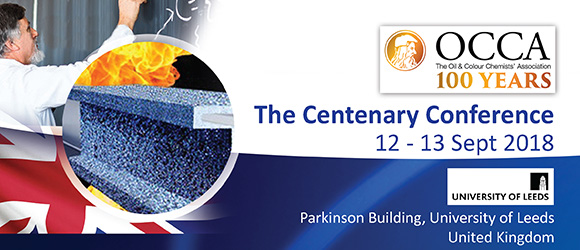 OCCA celebrates its centenary year with a progressive and informative technical programme including speakers from academia and industry covering a range of science important to the surface coatings industry.
OCCA encourages links between academia and industry to develop lateral thinking for emerging technical and scientific discoveries. It is the mission of OCCA to promote this interaction to enable industry to achieve technical and commercial success recognised as best-in-class around the world. Enhancing the interface between academia and industry importantly encourages young professionals to take advantage of the diverse prospects for employment in sectors of critical national importance. Organised networking is a focus of this event.
The OCCA Centenary Conference will provide a forum and networking for scientists, engineers and technologists from academia, government laboratories and industry. Industrialists searching for the key scientific discovery to enable manufacture of differentiated coatings should attend. Attendees will present their findings, exchange ideas, share insights, make new friends and renew old acquaintances.
The Conference typically attracts over 100 attendees and covers 16 oral sessions over two days. Attendees to the conference will be practicing the research and formulation of paints, inks, adhesives, sealants and other surface coatings.
The Centenary Conference Dinner held on the evening of the first day will celebrate the achievements of OCCA and provide a backdrop for important networking between academia and industry. Every conference ticket includes entry to the dinner. Additional tickets are also available when ordering for guests.
---
Keynote Speakers
Professor Dr Doris Vollmer, Physics Department, Johannes Gutenberg University Mainz
Advantages and Disadvantages of Surface Modifications (Superhydrophobicity, Superamphiphobicity, Lubricant-Impregnated Slippery Surfaces) and Biofouling
Since 2009 Prof Vollmer's research has been mainly concerned with fundamental and applied problems in the wetting behaviour of structured surfaces, in particular of superhydrophobic, superamphiphobic and slippery surfaces. Her work frequently combines synthesis of model structures, analysis of microscopic and macroscopic features with complementary experimental techniques and modelling by mean-field descriptions to gain a profound understanding of the central concepts of the wetting phenomenon under investigation.
Graham Armstrong, Secretary General, The Institute of Materials Finishing
50 years of Paint and Application Following the Trials and Tribulations of a Technical Service Manager
The mission of IMF is to provide a focus for surface engineering and finishing activities worldwide through the fulfilment of the technical, educational and professional needs at all levels for both the individuals and companies involved in the coatings industry. IMF embraces all technologies of surface finishing on a wide variety of materials. Such processes embrace electro-plating, organic (paint) finishing, anodising, printed circuitry and ancillary methods of surface treatment. More recently, the IMF has further broadened its interest to cover other aspects of surface engineering. Surface engineering is one of the most important industrial activities in UK and it directly underpins 50% of the UK total manufacturing activities. In the UK, the sector is estimated to be worth about £14bn, but it adds value to products worth about £175bn.
Professor Sophie Duquesne, Department for Materials and Transformations, University Lille
Flame Retardants in Coatings: Innovative Approaches and New Developments to Overcome Current Challenges
Prof Duquesne explores the processing of flame-retarded materials including thermoplastics, elastomers, composites and textiles including the development of fire protective coatings. In particular, the intumescent process is explored. Intumescent coatings, mainly composed of ammonium polyphosphate, pentaerythritol and melamine, are widely used in the field of fire protection of steel structures. The importance of inorganic filler on protective behaviour and longevity of coating performance is one of a number of parameters explored. Challenges to the development of modern fire protective coatings are elucidated.
Professor Stuart Clarke, BP Institute and Department of Chemistry, University of Cambridge
Reflections on the Solid/Liquid Interface
Exploiting and developing the technique of neutron reflectometry to probe the molecular level adsorption of a variety of solid/liquid interfaces including minerals, graphene and metals. Prof Clarke's focus is the nature of the surface itself and molecular adsorption of organic species to these surfaces from water, oil and polymers. This neutron reflection method will be shown to provide unique compositional and structural insight into these important interfacial systems, particularly where each component of multicomponent mixtures can be distinguished and the non-invasive nature of the approach can be exploited. Examples of adsorbed monolayers, bi-layers, and multicomponent mixtures will be outlined.
---
Surfex Conference Day 1 (September 12th)
09:00 – 09:30
Registration
09:30 – 09:45
Opening Remarks by Sir Alan Langland, Vice Chancellor
Morning Session
Chair
09:45 – 10:30
Key Note Speaker
Reflections on the Solid/Liquid interface
BP Institute and Department of Chemistry, University of Cambridge
Prof Stuart M Clarke
Prof Long Lin
10:30 – 10:55
Advanced rheology for the evaluation of settling in plasma functionalised GNP inks
Welsh Centre for Printing and Coating, Swansea University
Dr James M. Claypole, A.T. Claypole and T.C. Claypole
Prof Long Lin
10:55 – 11:25
Tea and Coffee
11:25 – 11:50
Optimisation of scattering with engineered High Performance Minerals in Decorative Matt Paints
Imerys Minerals Ltd
Amandine Briand, Anabelle Elton-Legrix, Petra Fritzen, Helen Dollani
Prof Long Lin
11:50 – 12:15
Bismuth Vanadate pigments
Dominion Colour Corporation
Dr Peter Carey-Yard
Prof Long Lin
12:15 – 12:40
Analytical strategies for the characterisation of pigments and dyes
Yordas Group, Lancaster Environment Centre, Lancaster University
Dr Alan Lee
Prof Long Lin
12:40 – 14:00
Lunch and Networking
Afternoon Session
Chair
14:00 – 14:45
Key Note Speaker
Flame retardants in general for application in coatings, what is new and what are the issues to overcome? What are the innovative approaches?
Unité Matériaux et Transformations, École Nationale Supérieure de Chimie de Lille
Prof Sophie DUQUESNE
Nikki Cosgrove
14:45 – 15:10
A ToF-SIMS/MVA Approach to Identify Phase Segregation in Blends of Incompatible but Extremely Similar Resins
Department of Mechanical Engineering Sciences, University of Surrey
Prof John F. Watts, Gustavo F. Trindade, Marie-Laure Abel, Rene Tshulu, Chris Lowe
Nikki Cosgrove
15:10 – 15:40
Tea and Coffee
15:40 – 16:05
Greener solvents for coatings
Green Chemistry Centre of Excellence, University of York
Dr Con Robert McElroy
Nikki Cosgrove
16:05 – 16:30
Latest developments towards sustainable carbon black pigments
Black Bear Carbon BV
Ad van Oorschot
Nikki Cosgrove
16:30 – 16:55
Microfibrillated cellulose: a novel multifunctional additive for waterborne coatings and adhesives
Borregaard
Dr Rebecca Blell
Nikki Cosgrove
16:55 – 18:00
Networking
19:00
The OCCA Centenary Conference Dinner
Surfex Conference Day 2 (September 13th)
Morning Session
Chair
09:00 – 09:45
Key Note Speaker
The advantages and disadvantages of different types of surface modifications (superhydrophobicity, superamphiphobicity, lubricant-impregnated slippery surfaces) and biofouling
Max Planck Institute for Polymer Research
Prof Doris Vollmer
Jim Bury
09:45 – 10:10
Epidermis-Inspired Robust Superhydrophobicity
Max Planck Institute for Polymer Research
Dr William S Y Wong, Zbigniew Stachurski, Antonio Tricoli and Vincent Craig
Jim Bury
10:10 – 10:35
Novel oil-modified acrylic multi-domain dispersions
Allnex Holdings S.à r.l
Luc Sterckx, A. Steiner, F. Lunzer, L. Khatai, T. Kittler, K. Gariepy
Jim Bury
10:35 – 11:00
Tea and Coffee
11:00 – 11:25
1K hydrophobic binders for anti-corrosion primers and DTM topcoats
Synthomer Deutschland GmbH, Germany
Dirk Suehling, Thomas Bernhofer, Jan Pilger
Jim Bury
11:25 – 11:50
Characterisation of a Novel Hybrid Anti-corrosive System Comprising Graphene Nano Platelets and Non-Metal-containing Anti-corrosive Pigments
Applied Graphene Materials, Wilton Centre
Gaven Johnson, Matthew Sharp, William Weaver, Lynn Chikosha
Jim Bury
11:50 – 12:15
Electrochemical Tests for Assessment of Anti-corrosive Organic Coatings – A Short Review
University of Northampton
Dr Douglas J Mills
Jim Bury
12:15 – 13:15
Lunch and Networking
Afternoon Session
Chair
13:15 – 14:00
Key Note Speaker
Trials and tribulations of the paint and paint application industry: Surface Coatings for the Aerospace and Defence Industries
The Institute of Materials Finishing
Graham Armstrong FIFM
Steven Cartlidge
14:00 – 14:25
High performance polymer for solvent free Mastic
Synthomer France SAS
Dr Charles Bobichon
Steven Cartlidge
14:25 – 14:55
Tea and Coffee
14:55 – 15:20
Adhesion promotion using dry, blast-coating process to prime metals
ENBIO Ltd
Joseph Mohan
Steven Cartlidge
15:20 – 15:45
Deposition and applications of vacuum- deposited acrylate coatings
Department of Materials, University of Oxford
Prof Hazel E Assender
Steven Cartlidge
15:45
Closing Remarks
OCCA President
---
Accommodation
Accommodation is available at the nearby Storm Jameson Court. Booking is easy - simply select the required dates when ordering your conference tickets.
Storm Jameson Court is our flagship campus accommodation with en-suite bedrooms right at the heart of the campus, and just a stroll from the city centre.





The four-star building, which has been built to an extremely high, world-class specification, offers a 24 hour reception service and comfortable and spacious lounge. The 459 stylish bedrooms (23 of which are accessible rooms) feature Superior Single beds, floor-to-ceiling windows, data access, room safes, and an IPTV facility.




Travel Information / VISA Requirements
Anyone requiring assistance with Visa requirements or travel arrangements should contact conference@occa.org.uk